electromagnetic flow meter insertion type Made In China
Product Description
Specifications
Electromagnetic Flow Meter
insertion type Made In China(CE Approved)
1.Medium,water,milk,juice,beverage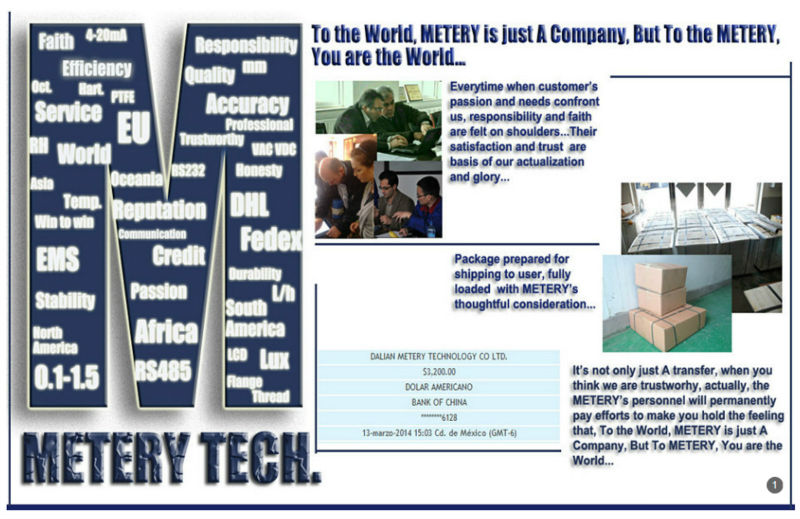 Packaging & Shipping      
Packaging Detail:
wooden case with poly foam inside
Delivery Detail:

Sent

it by DHL,TNT,FedEx UPS EMS
  Product Description;Converter
Measuring Range
The velocity range is 0.3m/s to 15m/s. The minimum measurable speed can be one percent (1%) of the full range.
Accuracy
DN
(mm)
Velocity
m/s
Accuracy
25
~
1200
0.1~0.3
±0.25%FS
0.3~1
±0.5%R
1~15
±0.3%R
%FS:Relative range;%R:Relative measured
Analog Output
Current output: fully-isolated 0 - 10mA / 4 - 20mA
Load resistance: 0 to 1.5kΩ at 0 - 10mA; 0 to 750Ω at 4 - 20mA
Base error: add ±10μA on top of the measurement error
Frequency Output
Frequency output is proportional to the flow percentage of the full range. It provides fully isolated transistor open collector frequency output ranged from 1 to 5000 Hz. The external DC power supply should not exceed 35V and maximum collector current is 250mA.
Pulse Output
The converter can output up to 5000cp/s pulse series, which is dedicated to external totalization. Pulse factor is defined as pulse count per unit volume or mass. It can be set to 0001-9999p/L, 0001-9999p/m3, 0001~9999p/kg or 0001~9999p/t. Pulse width is selectable from 16ms, 33 ms, 66mm, 99ms or auto square wave. Photo-coupler isolated transistor open collector circuit is used for pulse output. The external DC power supply should not exceed 35V and maximum collector current is 250mA.
Showing Flow Direction & Range
The converter is capable of measuring both forward and reverse flow and recognizing its direction. The converter outputs 0V low level for forward flow, while +12V high level for reverse flow.
Alarm Out
Two channels of photo-coupler isolated open collector circuit are used for alarm signal output. There are two alarm outputs: high limit alarm and low limit alarm. The external DC power supply should not exceed 35V and maximum collector current is 250mA.
Communication
The RS485, RS232C, HART, Profibus, MODBUS communication interface are embedded in the converter. Surge absorber is optional to protect the interface and converter.
Damping Constant
Damping time is optional from 0.2 to 100s
Input Contact
External contact ON (close) or OFF (open) signal can be used to remotely control the start/stop or reset of internal counter.
Display Function
Flow rate can be displayed either in engineering units or in percent of span. Totalized volume in any engineering unit can be displayed by setting a totalizing factor.
Self Diagnostics Function
Converter failure, flow tube failure, erroneous setting, etc. can be diagnosed and displayed.
Data Security During Power Failure
Data storage by EEPROM - no back-up battery required
Electrical Connection
ISO M20´1.5 female
Terminal Connection
M4 size screw terminal
Case Material
Aluminum alloy
Coating
Polyurethane corrosion-resistant coating. Cover; Deep sea moss green (Munsell 0.6GY3.1/2.0) Case; Frosty white (Munsell 2.5Y8.4/1.2)
Protection
IP67, NEMA4X
    Our Services
After-sales service:           We promise to deliver the following after-sales service:           1. Warranty: The warranty period is 12 months starting from the shipping date;          2. Customers will enjoy free repair services for failures found within the warranty due to manufacturing quality;   FAQ What are Flowmeters?
A flowmeter is an instrument used to measure linear, nonlinear, mass or volumetric flow rate of a liquid or a gas.
Selecting a
Flow Meter
The basis of good flowmeter selection is a clear understanding of the requirements of the particular application. Therefore, time should be invested in fully evaluating the nature of the process fluid and of the overall installation.
Here are some key questions which need to answered before selecting a flowmeter: What is the fluid being measured by the flowmeter or flowmeters (air,water,etc…)? Do you require rate measurement and/or totalization from the flow meter? If the liquid is not water, what viscosity is the liquid? Is the fluid clean? Do you require a local display on the flow meter or do you need an electronic signal output? What is the minimum and maximum flowrate for the flow meter? What is the minimum and maximum process pressure? What is the minimum and maximum process temperature? Is the fluid chemically compatible with the flowmeter wetted parts? If this is a process application, what is the size of the pipe?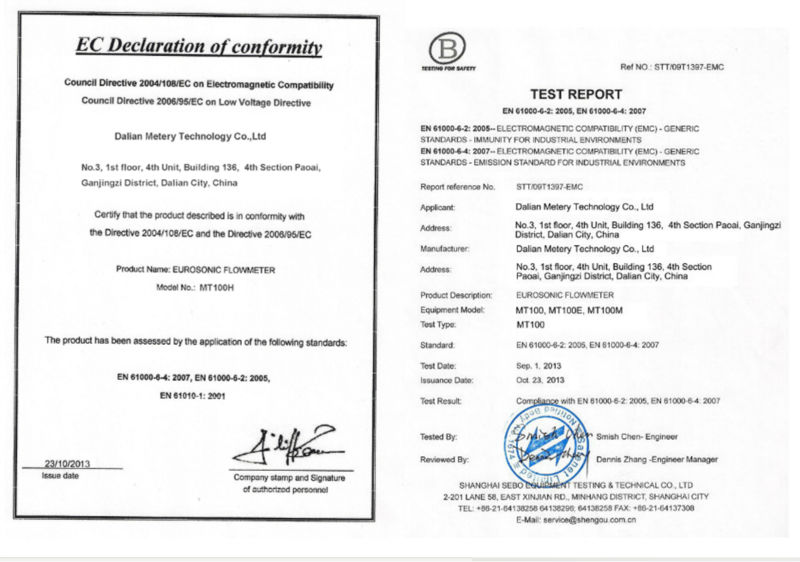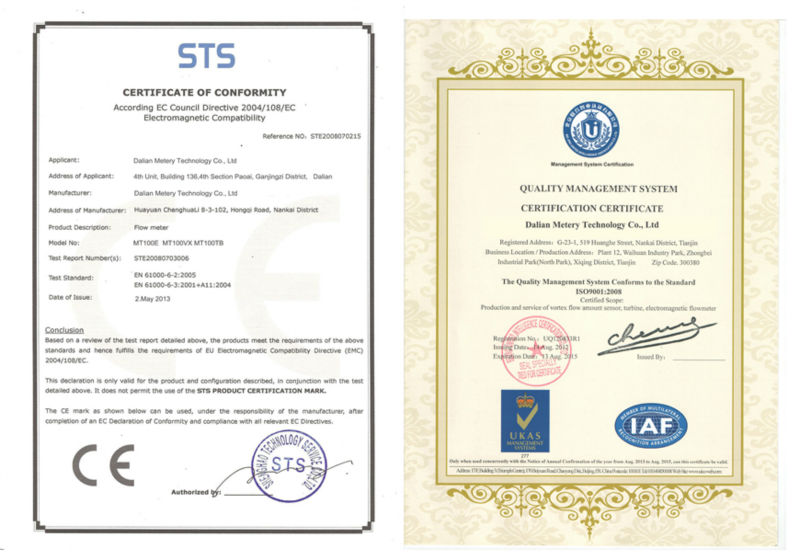 WELCOME TO Dalian Metery Technology Co.,LTD Contact us if you need more details on Electromagnetic Flow Meter Insertion Type Made in China. We are ready to answer your questions on packaging, logistics, certification or any other aspects about Electromagnetic Flow Meter Insertion Type in China、Electromagnetic Flow Meter Insertion Type. If these products fail to match your need, please contact us and we would like to provide relevant information.
Product Categories : Electromagnetic Flow Meter > Other Electromagnetic Flow Meter